The official Joseph Angerer coloured iridology chart exclusive to I.R.I.S.
Available in two sizes.
A1 size, large non iridology laminated wall eye chart.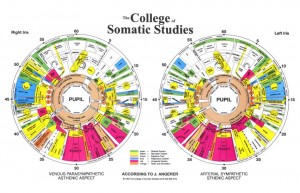 ---
The Jospsh Angerer iridology chart is quite different from other eye charts. The eye chart is colour co-ordinated to group signs into highlighted areas representing the systems throughout the body.
The chart includes the pupil flattenings, which Angerer places great emphasis. It also includes areas to represent the spine and gastro-intestinal tract.
These iridology charts are genuine Joseph Angerer eye charts exclusive to I.R.I.S. They are coloured co-ordinated to represent the systems of the body so you can quickly and easily group signs in the eye to a particular body system.
Discounts are available for bulk orders – please contact us for details.